International Journal of Research in Science and Engineering Technology
The International Journal of Research in Science and Engineering Technology (IJRSET) is an international, peer-reviewed journal in English published by Oasis International Journal . IJRSET is an indispensable resource for Science and Engineering researchers.
Open Access
International Journal of Research in Science and Engineering Technology have no access barriers. Open Access is a publication model that enables the dissemination of research articles to the global community without restriction through the internet. This makes it possible for the widest possible dissemination of your work and leading to more citation since it can be accessed by anyone with internet connection.
We strongly believe that the open access model will spur research across the world especially in developing nations, as researchers gain unrestricted access to high quality research articles.
Oasis International Journal
Oasis International Journal (OIJ), a subsidiary of Oasis International Development Foundation (nonprofit organisation) is a broad-based publisher of quality open access journals and delivers this research to the widest possible audience.
Authors Guideline
Papers submitted should follow the Oasis International Journal authors' guideline and not be under concurrent consideration at another journal.
Any potential data overlap with previous studies should be noted and described in the letter to the Editor.
Authors Guideline Article Submission
Call for Paper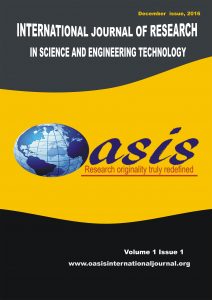 IJRSET invites papers from, but not limited to the following topics;
Formal logic Mathematics
Mathematical statistics
Theoretical computer science
Game theory
Decision theory
Information theory
Systems theory
Control theory
Classical Physics
Modern Physics
Applied Physics
Theoretical Physics
Experimental Physics
Computational Physics
Inorganic Chemistry
Organic Chemistry
Manuscripts submitted to this journal will be deemed as they have not been submitted and are not under consideration for publication elsewhere.
Oasis International Researchers Forum
Be a member of Oasis International Researchers Forum. A team that promote education globally, provide a platform for exchange of innovative ideas among academia, organize conferences, workshop and seminars where findings from various research studies will be intellectually discussed as well as encourage young researchers in their various field of studies.